Wyoming mule deer can be found on the open prairies, deep draws or flat topped buttes. Our herds are managed to produce trophy animals. We only take four trophy mule deer over 100,000 acres. Our preferred method of hunting mule deer is spot and stalk but will use other methods at our clients' request.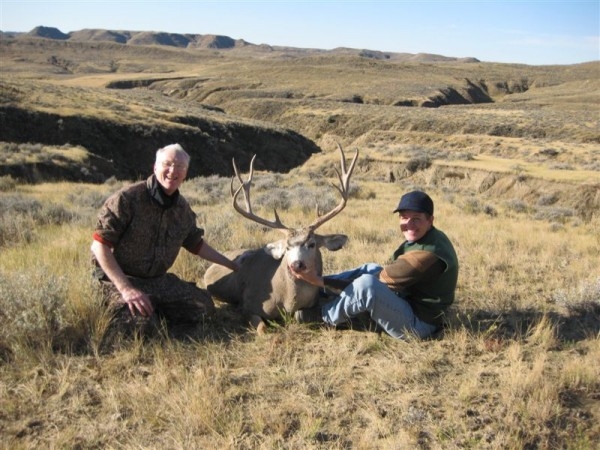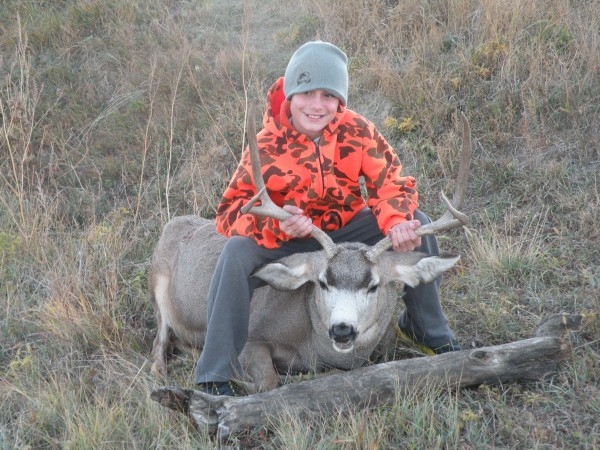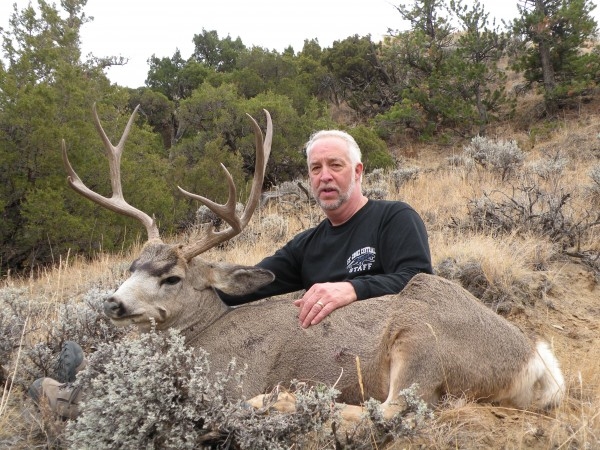 Mule deer hunting in Wyoming can be physically demanding. Our guests get the most out of this hunt when they have put the effort forth to get into good physical condition. This is not to say that we don't harvest mule deer out of portable blinds and tree stands. We can accommodate any hunter and adjust to the type of hunting they prefer.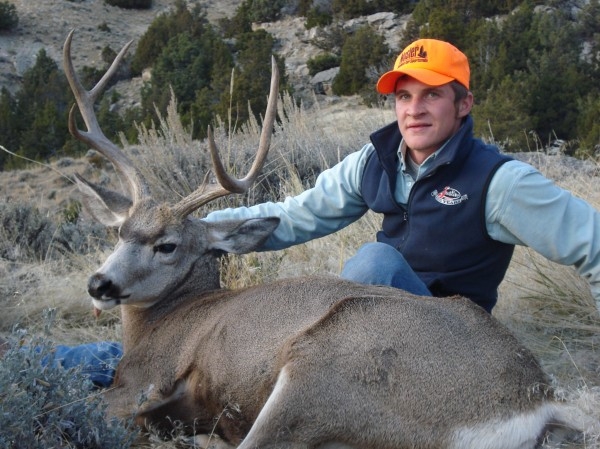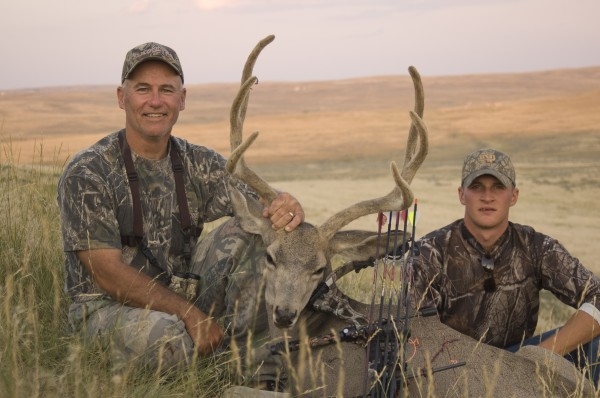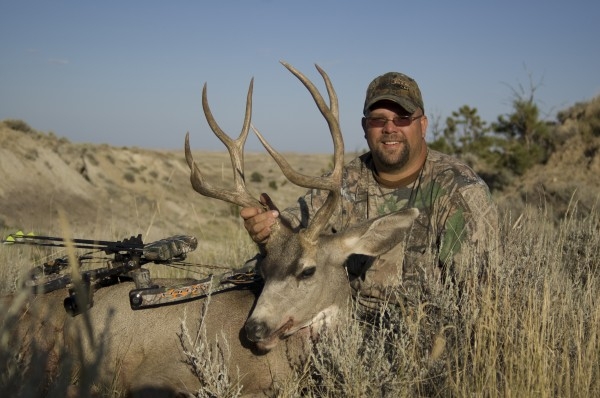 Interesting Facts
In Wyoming, mule deer live in a broad range of habitats - forests, deserts, and brush lands. Mountain populations migrate to higher elevation in warmer months, looking for nutrient-rich new-grown grasses, twigs, and shrubs. Mule deer maintain separate summer and winter ranges, connected by a migratory pathway. In milder climates, they do not migrate. Mule deer live in small social groups of about three, except during the winter, when large groups may come together to feed in open meadows. Females tend to stay close to where they were born. Mule deer bucks disperse farther, establish their own territories, and compete for access to females during the October and November breeding season. The bucks lose their antlers after breeding and grow new ones yearly, with each set becoming larger than the previous one. Newborns, with spotted coats, are well-camouflaged.

Wyoming mule deer hunting application dates are January 1st - March 15th. Results will be posted by June 30th. Peak Adventures, L.L.C. will take care of license applications once a deposit has been made.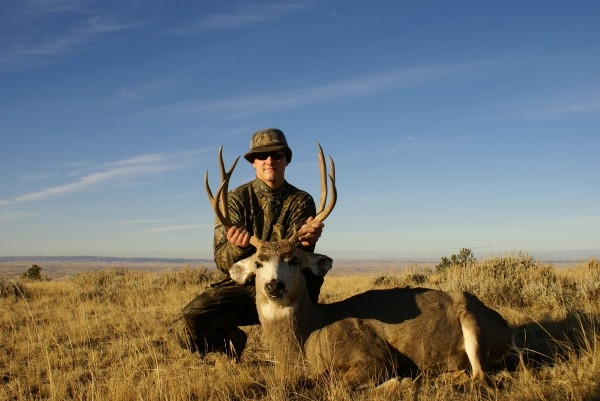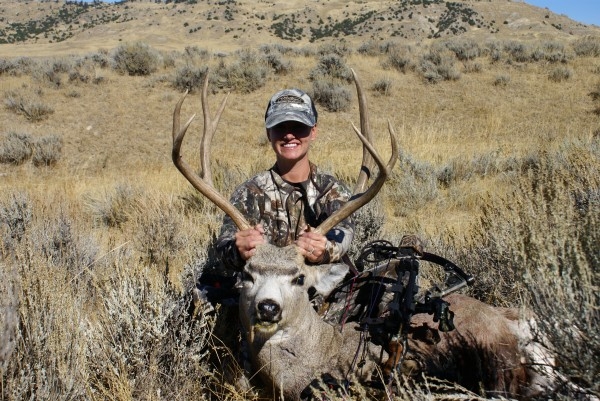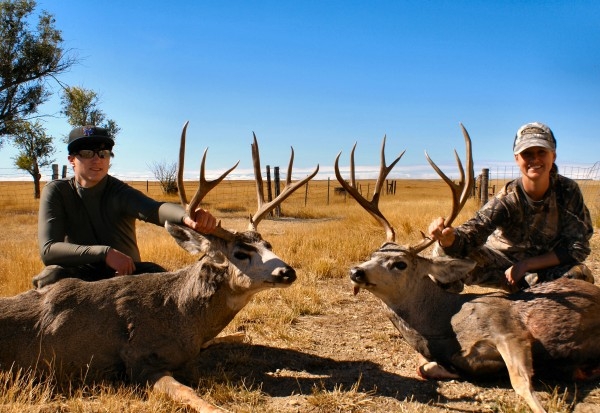 ---
WYOMING MULE DEER ARCHERY HUNTING - SEPTEMBER 1ST - SEPTEMBER 30TH
ARCHERY MULE DEER HUNT - 5 DAYS / 6 NIGHTS - $4500
ARCHERY COMBO MULE DEER/ANTELOPE - 5 DAYS / 6 NIGHTS - $5800
---
WYOMING MULE DEER RIFLE HUNT - OCTOBER 1ST - OCTOBER 20TH
RIFLE HUNT - 4 DAYS / 5 NIGHTS - $4500
RIFLE COMBO MULE DEER/ANTELOPE - 4 DAYS / 5 NIGHTS - $5800
---
The following prices do not include hunting licenses, taxidermy fees or meat processing fees. These prices are based on a 2:1 guide ration. The outfitter reserves the right to assign more hunters per guide. Hunts are available on a 1:1 hunter to guide ratio at an additional 20% fee. Non-hunting members may come on a hunt for $200 per day additional fee.
Deposit Information
All hunts require a 50% NON - REFUNDABLE deposit at booking, with the balance due upon arrival.
Some hunt areas licenses are obtained through lotto drawing system. If you are unsuccessful in drawing a license thought the lotto system your options are:
Your deposit, minus application fees, can be returned to you no later than August 15th
We can hold your deposit, minus application fees, for the following seasons drawing.
Roll your deposit, minus application fees, into another available hunt for the current season
If you are booking for something other than the current season please call as pricing and deposit requirements may change.
Personal checks and other forms of guaranteed funds, will be accepted for initial deposits. Hunt balance must be paid by cash, money order or certified check. NO PERSONAL CHECKS, NO EXCEPTIONS!!!
License and tag fees are not included in the price of the hunt.
Please call before booking non-hunters on all hunts as space is limited and not available for all hunts.
Cancellation Policy
Non-refundable means non-refundable.
Before submitting to Peak Adventures L.L.C. take a copy for your records