Wyoming antelope hunting at it's best! Peak Adventure Outfitters, L.L.C specializes in Wyoming antelope hunting. We hunt the largest pronghorn antelope herd in the United States, the Pumpkin Butte Antelope Herd. You will literally see hundreds of antelope every day. These antelope roam the open prairie and use their eye sight to detect danger creating a unique hunting challenge.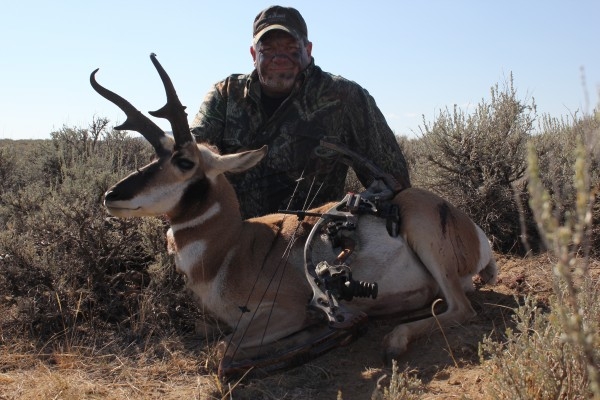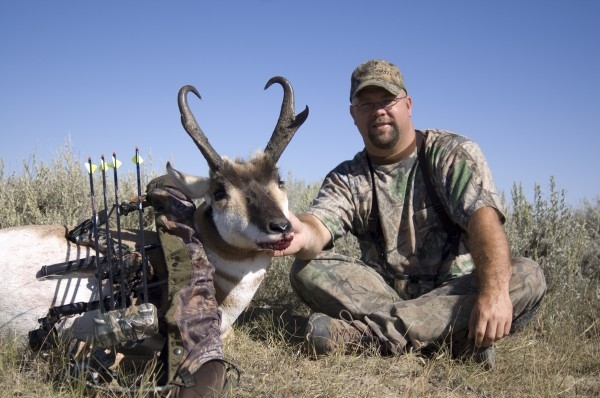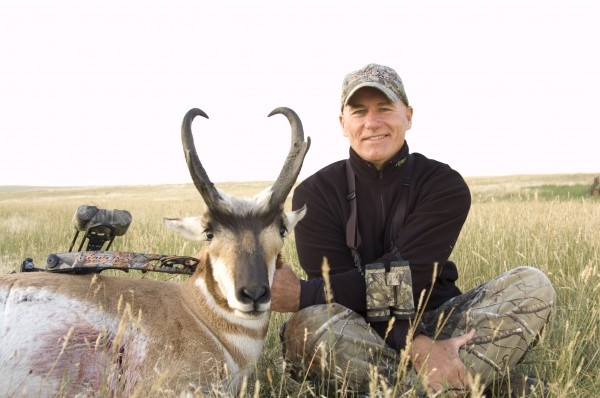 Distance in this vast country can be deceiving. Be sure to practice long range shots and buy the best range finder you can afford. We like to get our rife hunting clients within 200 yards for an ethical harvest but this is not always the case. These bucks average 14 inches with some going as tall as 16 inches.
Wyoming is one of the best states for archery antelope hunting. Most of our archery antelope hunts are conducted over a waterhole with the use of a ground blind or tree stand. If that isn't challenging enough and you want more actions, we can accommodate you with a rut antelope archery hunt. During the rut these antelope bucks are in fierce competition for territory and does. Our clients take P&Y archery class antelope bucks every year. The high consentration of antelope in this part of Wyoming helps the success rate of our archery hunters and provides a lot of action.
There is nothing like a rutting antelope coming in hard and fast to a decoy. It is an amazing adrenaline rush!We also offer a management antelope hunts. Management antelope have genetic traits that we do not find desirable. The price for a management antelope hunt is considerably less. You can combine a management antelope with any full price hunt.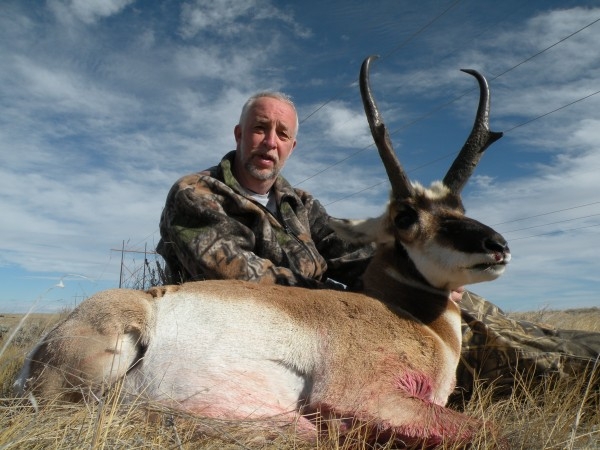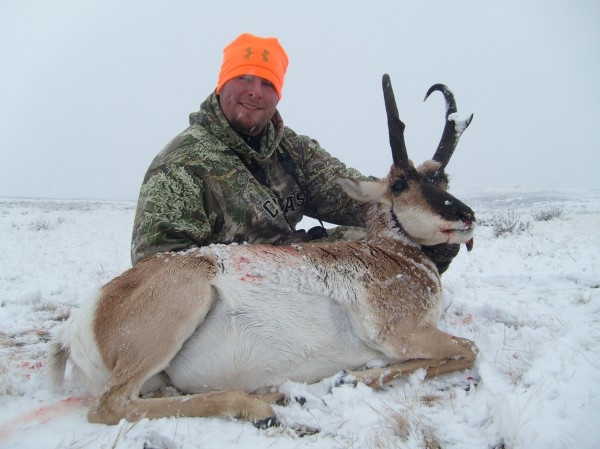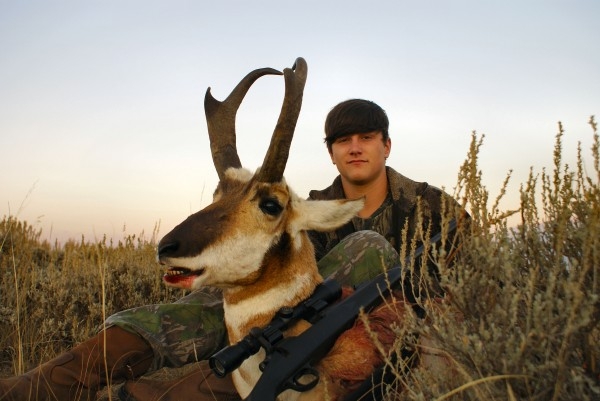 7 Reasons Wyoming Antelope Hunting is the Best
Numbers – The population of antelope almost exceeds the human population of Wyoming. Wyoming has more antelope than any other state in the Union. Hunting where there are a lot of antelope allows you to be more selective and your odds of harvesting an antelope is greater.
Trophy Antelope Hunting – Wyoming has more Boone and Crocket entries for antelope than any other state. Peak Adventures is located in northeast Wyoming near Gillette, in Campbell County, which ranks as the fifth highest B&C trophy antelope producing counties.
Drawing Odds - If you didn't draw the species you had hoped for, don't worry, Wyoming is very liberal with their non-residence antelope hunting licenses. The area that Peak Adventures hunts always has left over licenses that can be purchased over the counter.
Seasons – The antelope seasons in our area is very liberal. Archery antelope season runs from August 15th – September 30th. Rifle antelope season runs from October 1st – October 31st.
Options – Bow or Rifle? Wyoming is one of the few states that allow a hunter to hunt antelope with archery equipment or a rifle on the same tag. If you are bow hunting for antelope and aren't successful then you can use your tag during the antelope rifle hunting season. Or if you were able to make it to Wyoming during the archery season and you're a diehard archery hunter then you can hunt antelope with your bow during rifle season.
Party Permits – If you have a group of people that want to antelope hunt in Wyoming then make it a party. Wyoming has "party applications" that allow a group to enter as one so that everyone in the group is guaranteed to get a tag if successful in the Wyoming draw. The maximum party allowed is six members.
Cost – When going on a hunt, every penny counts. Wyoming has tags for whatever your budget is. Antelope hunting has a reasonable cost associated with the sport. It's especially good to bring youth on an antelope hunt because of the cost and you see antelope all of the time. This helps keep the youth engaged in the hunt.
Interesting Facts
The pronghorn antelope is not really an antelope, but the sole descendent of an ancient deer-like family. Pronghorns are the fastest mammals on foot in the Western Hemisphere, capable of sprints up to 97 kilometers (60 miles) per hour. They carry the only forked horns in the world, and the only horns that are shed annually. Both genders have horns although the males are much bigger than the female's. With a field of vision that is nearly 360 degrees and extremely efficient circulatory and respiratory systems, they can detect predators and escape from them by running at high speed for extended periods.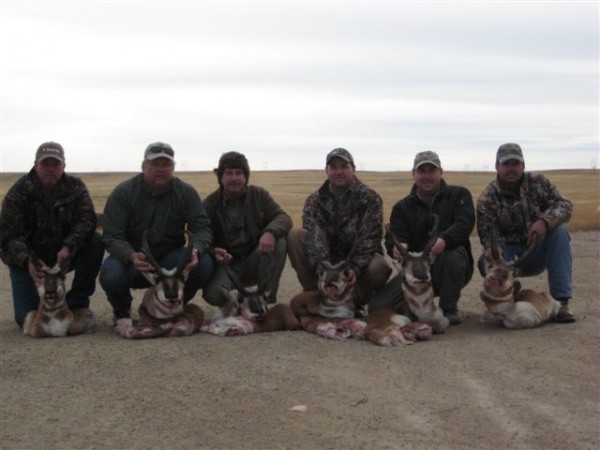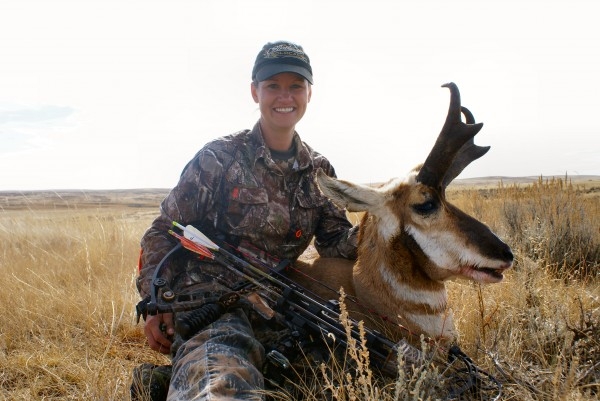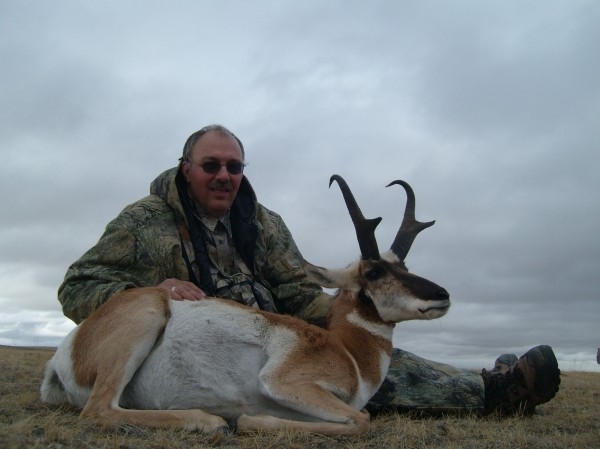 Application dates are January 1st - March 15th. Results will be posted by June 30th. Peak Adventures, L.L.C. will take care of license applications once a deposit has been made.
---
ARCHERY SEASON - AUGUST 15TH - SEPTEMBER 30TH
ARCHERY HUNT - 4 DAYS / 5 NIGHTS - $2350
ARCHERY COMBO MULE DEER/ANTELOPE - 5 DAYS / 6 NIGHTS - $5800
---
RIFLE SEASON - OCTOBER 1ST - OCTOBER 31ST
RIFLE HUNT - 3 DAYS / 4 NIGHTS - $2350
RIFLE COMBO MULE DEER/ANTELOPE - 4 DAYS / 5 NIGHTS - $5800
---
The following prices do not include hunting licenses, taxidermy fees or meat processing fees. These prices are based on a 2:1 guide ration. The outfitter reserves the right to assign more hunters per guide. Hunts are available on a 1:1 hunter to guide ratio at an additional 20% fee. Non-hunting memebers may come on a hunt for $200 per day additional fee.

Deposit Information
All hunts require a 50% NON - REFUNDABLE deposit at booking, with the balance due upon arrival.
Some hunt areas licenses are obtained through lotto drawing system. If you are unsuccessful in drawing a license thought the lotto system your options are:
Your deposit, minus application fees, can be returned to you no later than August 15th.
We can hold your deposit, minus application fees, for the following seasons drawing.
Roll your deposit, minus application fees, into another available hunt for the current season
If you are booking for something other than the current season please call as pricing and deposit requirements may change.
Personal checks and other forms of guaranteed funds, will be accepted for initial deposits. Hunt balance must be paid by cash, money order or certified check. NO PERSONAL CHECKS, NO EXCEPTIONS!!!
License and tag fees are not included in the price of the hunt.
Please call before booking non-hunters on all hunts as space is limited and not available for all hunts.
Cancellation Policy
Non-refundable means non-refundable.
Before submitting to Peak Adventures L.L.C. take a copy for your records.